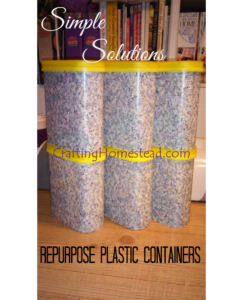 Some containers I like, they must be kept, no idea why. This is true for the containers that I will tell you about today.
My favorite color is purple, my least liked colors are yellow and orange. I like and appreciate all colors, they all have a place in the world, they just don't all draw me in, in fact, some repel me…
WHAT?
Where are you going with this?
Oh, right…recycling. The containers I have gathered the most of are bright yellow, not a nice pale yellow like my kitchen walls (which I love), but bright, stinkin' yellow. UGH! Something about the shape of them, the size I suppose, and the fact that I was going through them like wild fire. Finally after having so many, while packing I realized, "GOOD GRIEF! There are a tons of these!" Knowing full well that if my Honey found this moving box full of empty Nesquik containers he would chuck them (not even into recycling) and they'd be *gone*. Something had to be done.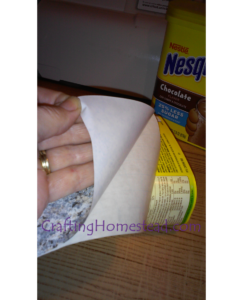 Simultaneously, while packing up some boxes to move I realized there were some random things floating around in my craft room. Like pins. The kind you keep and collect or swap. The ones that used to emblazon my denim jacket back in the day. There was a pin here, a pin there, a small pile of them in some dark crevice. They should all be together in one space. And key chains, some are relics from my teen years, some are just plain rings for some project I must have needed them for. Another pile starting, this one has paper shapes…you know, when you are making a scrapbook page or a greeting card and you punch a few extra pieces, just in case. Or the kids just find your punches and think it's fun to make confetti with them. I can't bear to chuck them, so pile them up.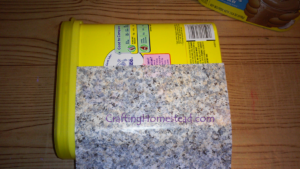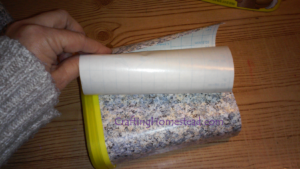 Enter Nesquik. Good sturdy containers, but ugly as they are, that label doesn't come off – must. cover. it.  OOOH, that cute shelf liner is saying, "pick me!" A couple quick measurements and cut with the rotary cutter. Yeah baby! That one roll of liner covered nine containers. I'd call that a complete set and a spare, but I do have more. tee-hee, gotta grab another roll or two.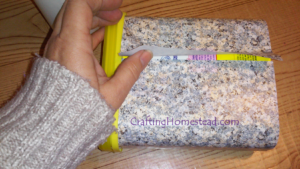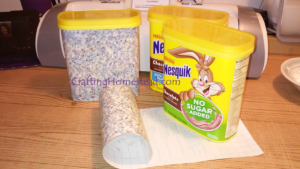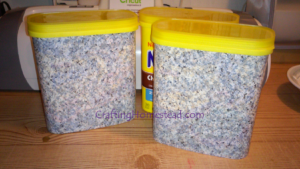 The new homes for my keychain pieces, pins, paper punch pieces and more!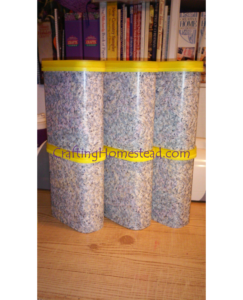 All that is left to do is label them. I think they're great! They disguise the contents so my room looks nice. Maybe I will spray paint the lids with something translucent…is that a thing? Oh crud, something else to add to my list. :/